Abacus Group Named to ChannelE2E's Top 250 Public Cloud MSPs List for 2021
by Abacus Group, on Nov 30, 2021
Fourth-Annual List Honors Leading MSPs for Amazon Web Services, Microsoft Azure, Google Cloud & More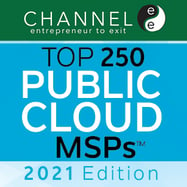 NEW YORK, November 30, 2021 - ChannelE2E, a CyberRisk Alliance information resource, has named Abacus Group, a global provider of IT services for alternative investment firms, to the Top 250 Public Cloud MSPs list for 2021 (http://www.ChannelE2E.com/top250).

The list and research identify and honor the top managed IT service providers (MSPs) that support customers on Amazon Web Services (AWS), Microsoft Azure, Google Cloud Platform (GCP) and more. The research also pinpoints MSPs that increasingly address public cloud security for end-customers.

The rankings are based on ChannelE2E's 2021 readership survey combined with the digital media site's global editorial coverage of managed cloud services. The fourth-annual list highlights growing momentum for cloud-focused MSPs, and growing investments in managed cloud security services.

"We're honored to once again be included on this distinguished list of public cloud managed service providers," said Chris Grandi, CEO of Abacus Group. "Our innovative abacusFlex – Public Cloud IT service has seen rapid growth since its launch among our client base of investment management firms."

Highlights from the associated ChannelE2E research include:
Public Cloud MSP Revenue Growth: MSP honorees, on average, expect to generate $37 million in public cloud revenues in 2021, up 27% from 2020.

Geography

: MSP honorees are headquartered in 29 different countries, and 56% of the MSP honorees are headquartered outside of the United States.

Public Cloud Platforms Supported: 82% of the MSP honorees support Microsoft Azure, followed by AWS (67%), Google Cloud Platform (33%) and VMware Cloud on AWS (25%).
Largest Revenue Share: 53% of MSP honorees said Microsoft Azure generates the bulk of their public cloud revenues, followed by AWS (35%).
Cybersecurity: Public cloud MSPs are growing their focus on cloud security posture management (CSPM), extended detection and response (XDR), and additional cyber services.
M&A: Mergers, acquisitions and private equity investments continue to accelerate across the public cloud MSP sector.
The Top 250 Public Cloud MSPs list and research were overseen by Editorial Director Joe Panettieri (@JoePanettieri). Find the online list and associated report here: http://www.ChannelE2E.com/top250.
About Abacus Group
Abacus Group, LLC is a leading provider of hosted IT solutions and service focused on helping alternative investment firms by providing an enterprise technology platform specifically designed for the unique needs of the financial services industry. The innovative and award-winning Abacus Cloud platform allows investment managers to source all technology needs as a service, offering the capacity to scale on demand to meet current and future cybersecurity, storage and compliance requirements. The company has offices in New York, NY; San Francisco, CA; Boston, MA; Dallas, TX; Greenwich, CT; Los Angeles, CA; Charlotte, NC; and London, England. For more information, visit www.abacusgroupllc.com.
About ChannelE2E
ChannelE2E, a CyberRisk Alliance information resource, is the leading digital brand for MSPs, IT service providers, channel partners and strategic investors seeking to maximize their business valuations, mitigate business risk and maximize security -- from Entrepreneur to Exit. Visit www.ChannelE2E.com.