Abacus named one of "The Most Influential Financial Technology Companies" by Harrington Starr
by Abacus Group, on Feb 28, 2020
Abacus Group has been included in Harrington Starr's list of "The Most Influential Financial Technology Companies of 2020" in their Financial Technologist magazine. Chris Grandi, CEO, shares on page 48 what he envisions for Abacus in the next ten years.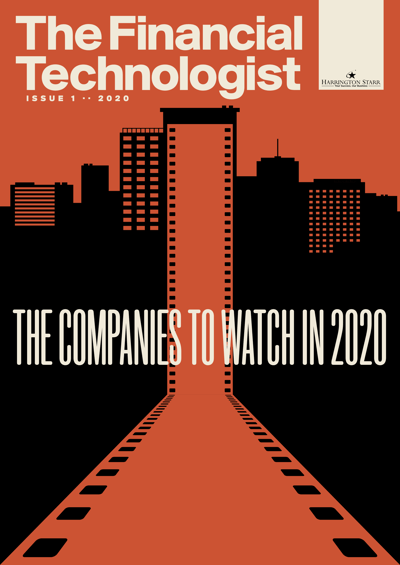 Abacus Group was founded in 2008 with the vision that cloud-based computing would revolutionize the way the investment management industry consumes and manages IT services. The investment management industry has historically been wedded to proprietary infrastructure stacks and architectures which were constructed with on-site hardware and managed by internal IT teams. The drivers of this solution came from the ethos of investment managers in that their ideas, data and investment processes were their edge and could only be managed internally. It was apparent to us that that cloud-based computing would allow for an investment management platform which would allow funds to scale their IT services in a much more efficient and cost-effective manner.
In line with this vision was our belief that investment managers would continue to outsource as much of their business operations as possible. With respect to IT services, our belief was that our industry would track the growth of the fund administration industry. 20 years ago, most managers internalized their fund administration tasks with teams of accountants and expensive software. In present day, very few if any, managers run their business this way. We believe managers will do the same with respect to the management of their IT services.
Our goal was to build a comprehensive and scalable IT platform which investment management firms can plug into and receive all of their technology delivered to them as a service as opposed to having to develop their own technology stack. Our Abacus Cloud spans five different data centers across the globe as well as public cloud infrastructure services hosted by Microsoft Azure and Amazon Web Services. The services we provide include basic IT services such as e-mail, file sharing, voice solutions, collaboration tools, disaster recovery and real-time back-ups. Further, we have developed our Abacus Cloud platform to provide access to specific technologies and tools required by investment managers, such as the hosting of complex applications (Order Management Systems, Execution Management Systems, Risk Systems, Data Warehouses, and General Ledge systems). We have also overlaid an extensive fabric of market access including real-time pricing, global market access, FIX connectivity and direct access to most global investment banks to ensure our investment managers have managed access to all markets and services required to run their business.
Over the past ten years, our company has had an average growth rate of 30% per annum. We currently have more than 600 clients on our platform and 200 employees working out of eight different offices (New York, London, San Francisco, Dallas, Boston, Los Angeles, Charlotte and Greenwich, CT).
As we look at the next ten years, we will continue to invest in our people and our clients to provide both constituents with a very positive experience. A few areas of evolution we are focusing on with respect to our signature AbacusFlex IT-as-a-Service solution, are in the following areas:
Public Cloud Utilization – The evolution of public cloud services, such as AWS, MS Azure and Google Cloud Platform, have had a tremendous impact on the financial services industry. These technologies allow for much more rapid development and deployment of services across the buy-side and the sell-side. Further, these services, if managed properly, can offer a significant reduction in annual costs versus hosting internally.
Cybersecurity – One challenge with the mass migration to the Public Cloud is that customer adoption is outpacing the development of security technologies designed and developed to protect clients. Cybersecurity is the area of greatest investment for Abacus in the coming years. We have taken steps to deploy leading edge technologies at all of our data centers, across all of our networks, and into all of our client environments. Further, we have taken active steps to require cybersecurity education training, including phishing tests, to our entire customer base. The market for public cloud technology products will increase, and the number of providers and new products/ services will correspondingly multiply in the coming years. However, it will be important for people to continue to remember the greatest security risk to us all are the human beings sitting in our offices, and continuous cybersecurity user training will always be an important part of any security solution.
Operational Transparency – As more technology is being put into third-party cloud environments, the transparency around the services provided, performance metrics and specific data location is becoming more opaque. While this new IT delivery mechanism experience, data-driven insights be driving tomorrow's innovations into the central clearing system, brings great efficiencies, we continually believe the operational transparency is critical to investment managers. The investment management industry is continually coming under more regulatory scrutiny, and their responsibility to provide reporting on all aspects of their business will continue to be important. At Abacus, we are constantly developing and delivering reporting tools so as to provide our investment managers with all of the information they will be expected to provide to their investors.
We are extremely excited to be recognized by The Financial Technologist. We very much look forward to 2020 and continuing our constant innovation and dedication to client service so as to provide our investment management clients with the very best IT experience possible.

Chris Grandi is the CEO and Founder of Abacus Group. He has led the company since its inception in 2008, growing it into an award-winning global firm that provides outsourced IT services and a combination of leading-edge private, public and hybrid cloud solutions to over 600 investment management firms. Chris has extensive experience in the FinTech industry, having previously been the President of Eze Castle Integration. He also co-founded, and later sold, Dynamic Transactions Inc., which developed internet payment software for commercial banks. Early in his career Chris worked for Goldman Sachs. He has a BA from UCLA and an MBA from Harvard Business School.
Download the full Financial Technologist magazine here.