In Memoriam: Sajjad Bacchus (1985 - 2020)
by Abacus Group, on Oct 19, 2020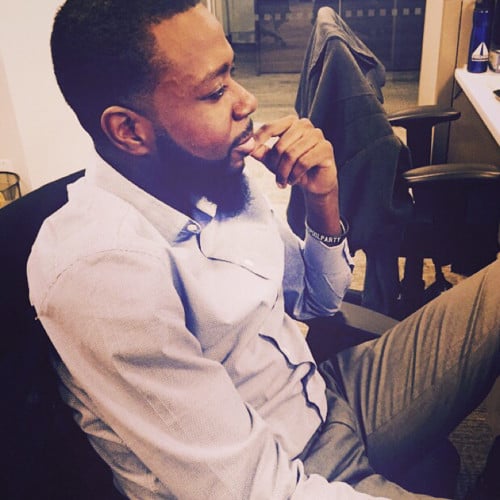 Sajjad Bacchus was a long-time cherished team member at Abacus Group, most recently as a Client Support Engineer. He tragically passed away on October 12, 2020. His good friend and colleague, Anthony Hartzog, Director of Remote Client Support at Abacus, has shared the following tribute in memory of Sajjad's life, his professional accomplishments and their friendship.
---
Sajjad and I first met back in college in 2004, while studying IT at SUNY Morrisville. Both originally from Brooklyn and as some of the only Black men in our program, we quickly bonded in a course taught by a professor who started out the first class basically stating that most of us wouldn't pass or finish college. Sajjad and I both looked at each other and decided right then and there that we were going to prove the prof wrong and work together to get through any challenging courses and graduate with our degrees. This was the first of many times I saw how he always put his heart and soul into everything and pushed forward to take advantage of so many opportunities in life.
We both finished our Associates degrees in Information Systems at Morrisville in 2006 and then transferred to SUNY Albany to work towards our Bachelor's degrees. At Albany, we became roommates and solidified our lifelong friendship.
Anyone who was at SUNY Albany at the time probably remembers Sajjad. He had such a huge presence on campus, involved in various student organizations and always the life of the party with a friendly face. He was a natural born leader and whatever he got behind, everyone else wanted to be a part of as well. He volunteered in a leadership role with the Albany State University Black Student Alliance (ASUBA) as Treasurer and was instrumental in the success of so many of its programs and events, including growing the ASUBA's annual fashion show into one of the largest ever. Through his work with ASUBA, he helped create an incredible community for Black students on campus. But Sajjad didn't stop there. He assisted with events all over campus through the Office of Student Success, ensuring students were kept safe while having a great time. Everyone on campus knew him and loved him. He made such a positive impact on the college experience for so many of us at SUNY Albany.
Despite all the fun on campus, Sajjad was very focused on his studies and worked hard to be successful in all of his courses. We would often go to the library together to study, which he would call "Club Bibliotecha" because it was always a good fun party in there. We'd walk in and he'd just start talking to people. It was like he was friends with everyone on campus and we couldn't go anywhere, not even the library, without him getting pulled into social conversations. His big smile and humor has always lit up everyone around him.
After graduating from SUNY Albany in 2008, Sajjad started his career in IT with a great opportunity in tech support at Goldman Sachs. One of our close mutual friends from college had started working at Goldman and referred Sajjad for the job there. In 2012, thanks to Darrell Tucker, an Alpha Phi Alpha fraternity alumni connection, I was referred for a client support role at Abacus Group, an IT firm specialized in the hedge fund industry. Abacus was growing and needed great talent to join the team who had both IT and financial services industry experience, so I recommended to Darrell that we recruit Sajjad over from Goldman.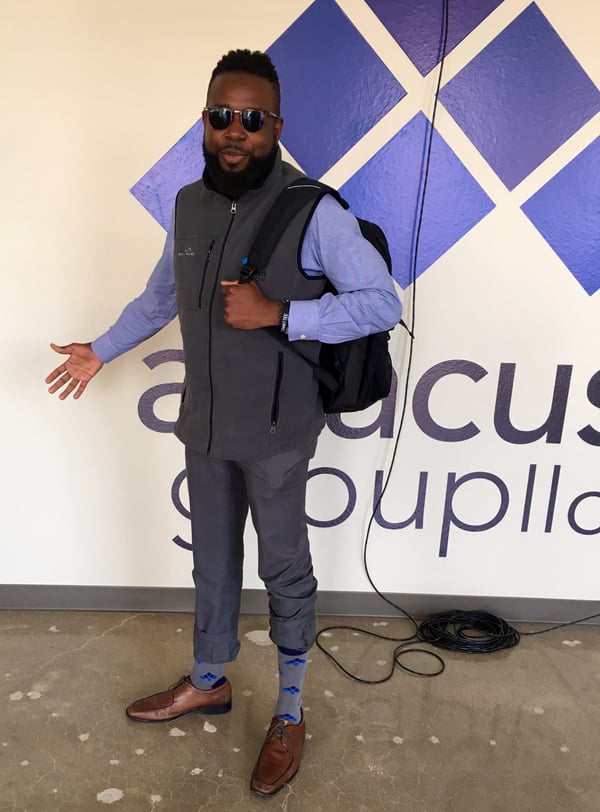 When Sajjad joined us at Abacus in 2013, our New York City office was still pretty small. The firm had originally started in San Francisco in 2008 and then expanded to New York. We were a tight knit group in the office in midtown Manhattan. And Sajjad always made everyone crack up laughing. Every Friday, he'd put his shades on while on the phone with clients. The office would get really sunny around noon and he had some light sensitivity, but he'd tell us the reason he wore sunglasses while on the phone was "I don't want clients seeing my soul!"
We all got to see a different side of Sajjad when he and I got to have the experience of a lifetime – being featured on a reality show together called "White Collar Brawlers." Everyone always asks me how we ended up on the show… honestly – I'm not really sure! It was Sajjad's doing. One day, out of the blue, I got a call from the show producers that we'd been chosen to be featured on this show. I immediately asked Sajjad "what are they talking about?!" Turns out, Sajjad had been approached by someone in a bar one evening about the idea of this show. He had laughed it off but gave them our numbers anyways. Like I said, he never turned down great opportunities in life.
The premise of the show was that they'd take two colleagues in white collar jobs who had a falling out over something and then box it out. But we didn't have any issues. So the producers sort of had to develop an interesting storyline for us. You know – "reality" shows. I was already a pretty big gym buff but Sajjad wasn't, so they decided that our storyline would be that I'd say he needed to get in shape. And boy did he get in shape. We were given this incredible opportunity to train with Bruce Silverglade of the infamous Gleason's Gym. Sajjad got so fit and dropped something like 20 pounds! We started calling him "Skinny Jad." But it wasn't just about the physical benefits of getting fit. As a result, Sajjad's confidence was boosted. He started wearing more stylish and form fitting clothes and grew out his beard. His whole attitude changed and it was like he was transformed into a totally different new more confident person. During the course of training, he started eating better and ended up maintaining all of the healthy habits even after the show ended. I was so proud of my friend and we had such a great experience on the show together. It bonded us more than ever.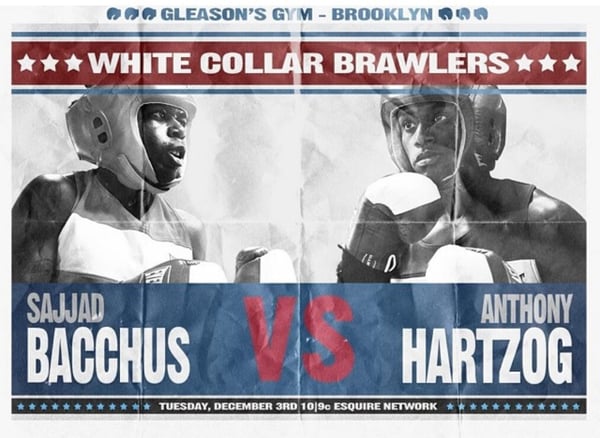 We were so appreciative that the management team at Abacus supported us in doing the show. Several scenes were filmed in the Abacus New York office, showing what we did for work, helping clients with IT issues over the phone. I'm more appreciative than ever that we were able to be on the show, because now it means that whenever I want, I can go back and watch the footage of Sajjad, my best friend, and I living life to the fullest together.
Sajjad and I were so close that I asked him to be the best man at my wedding in 2016. A few months before the wedding, Abacus was looking for someone experienced from our New York office to move down to Dallas to lead the new remote support team that had been hired there. I had been asked to go but didn't want to move there full-time until after my wedding. So I suggested we send Sajjad instead. He jumped on the opportunity and did such an incredible job. He had gotten to know our New York clients very well, and brought his knowledge of them to the Dallas remote support team. He helped the new folks in Dallas, who had never met our clients in-person, not just expand their hard-skills but also gain soft-skills, learning about the New York culture and how to understand the particular needs and personalities of our clients based in the city. He really helped set the stage for the incredible success our Dallas team is known for. Everyone in our Dallas office loved him.
Before leaving to move to Dallas in early 2016, Sajjad helped host a big SUNY Albany alumni BBQ in New York City. About 1700 people attended the event. Sajjad was a proud grill master all day. Once in Dallas, he decided to bring his love for BBQ to the office culture. We got a bunch of grills right outside the office door and to this day it's a tradition, thanks to Sajjad, to have office BBQs as frequently as we can.
When my wife and I finally moved full-time to Dallas, my friends back home in New York kept asking me if it was hard moving half-way across the country away from everyone I knew. I would say "What are you talking about? I'm here with not just my wife, but also my best friend Sajjad. We have each other!" And boy did we have fun in Dallas together. Sajjad loved to travel and almost every weekend he'd arrange trips for us to explore different parts of the state. He took full advantage of his time living in Texas.
While working at Abacus Dallas, Sajjad was a Manager of Hosted Application Support and then moved into a new role as Client Support Engineer. In the meantime, Abacus' business in the UK and Europe was growing. The company had brought on a big new software hosting client based over there, and needed someone highly skilled with our systems to ensure a smooth onboarding of the client and to help our London-based team get up to snuff on our application hosting systems. It was also important to bring the existing Abacus culture to the London office which consisted of a whole new team. Sajjad had really stood out in everything he'd worked on at Abacus, and I couldn't have been more proud when he was asked by Abacus' management team to move over to London in 2018. What an incredible opportunity!
Sajjad always lived every day to the fullest, and that was definitely the case when he got the opportunity to live abroad in London while working for Abacus. He took time to travel to as many different places as possible throughout Europe and the UK during his time there, on weekends and during vacation time. Our friend group started calling him "Eurotrip Jad" because he was always hopping on trains heading off to different places to visit in Europe. We had some college friends from SUNY Albany over there, so he would link up with them on his travels. And a lot of our friends from back in New York got to visit and travel with him. Being such a friendly guy, he immediately bonded with our London team and dove into their traditions of tea time and pub nights.
Sajjad was born and raised in Brooklyn, NY. His family is originally from Trinidad and he loved going to visit relatives on the island every year for Carnival. Whenever friends told him they were planning to visit the island, he'd make sure to connect them with his family.
He was a proud first generation college graduate and took pride in being close with his whole family, especially his sister, Tiffany, and his niece and nephew. He was an incredible Uncle.
After about a year and a half in London, he was missing his family so decided it was time to move back to New York City in the Summer of 2019. He had big dreams though still for his career. After some time in New York, he set his sights on maybe one day being asked to move out for a stint at the Abacus office in San Francisco, and was working towards being promoted again, with hopes of joining our Systems Engineering team.
I'm still based in Dallas, and even though we lived so far apart, especially when he was in London, we continued to talk almost every day. When the pandemic started escalating in the US in early March and travel between Dallas and New York became too risky, it was tough not being able to see each other but he was lucky to be home in Brooklyn with family.
On Monday, October 12, 2020, Sajjad tragically passed away due to complications from sickle cell anemia, a disease he courageously battled in private his entire life. I always admired Sajjad for how he didn't let such a horrible illness get in the way of living his best life. I feel blessed and honored that Sajjad was part of my life and I know he will be greatly missed by the many, many people whose lives he touched, from his childhood, his college years, his career, and the many friends he made over the years. He was taken from us too soon.
Rest in Peace, my good friend.