Abacus Group Proud Sponsor of Annual Water Buffalo Club Charity Poker Tournament
by Abacus Group, on May 19, 2022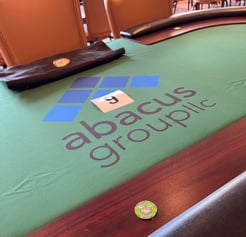 Abacus Group is pleased to announce its sponsorship of the annual Water Buffalo Club Charity Poker Tournament, which took place in Los Angeles on May 5, 2022.

The Water Buffalo Club is dedicated to fostering the well-being of underserved and at-risk children in Los Angeles. 100% of the proceeds from the Charity Poker Tournament benefit the Water Buffalo Club Silver Bullet Grant Program. This tournament is unique in that each player at the final table is also playing on behalf of a charity and each player's selected charity will receive a donation from the Water Buffalo Club in honor of that player. This year, the benefit grossed over $130,000, exceeding last year's record by over $14,000.

"Abacus is proud to support the philanthropic work of the Water Buffalo Club," said Brian Sigmond, Managing Director of Business Development at Abacus Group. "We share the WBC's vision of a Los Angeles where each child can experience a sense of well-being and have the opportunity to reach their full potential, and are delighted to support them in their efforts."

To learn more about the Water Buffalo Club, click here.