By Chris Steele, Managing Director of Software Services
When using outsourced IT services, it's vital that financial firms have visibility into their managed services, ensuring they have complete transparency and control over their firm's technology platform. This is why our Abacus Client Portal plays a key role in the service we deliver to our clients, providing them with access to a whole suite of compliance-focused tools, including important documents, reports and interfaces.
Our Charlotte-based software development team works closely with clients, seeking their input and feedback, to continuously enhance the features we provide within the Portal. Over the last several months, our software team has released several key new features that I know clients are eager to start using.
---
Internet Settings
As a new security-focused feature, we added an Internet Settings module to the Portal to help clients clearly understand and manage their web browsing policy settings. Within this module, clients can view their current website filtering settings, see any site-specific overrides and easily request changes to their settings. A table lists out which website categories are blocked and which are currently set to allow override. It also shows which website categories we block by default for all of our clients, as well as the percent of our clients who have chosen to block each website category on their default network firewalls. In conjunction with the release of this new Portal module, the website categories correspond to the ones set by our new URL filtering vendor, PAN-DB.

---
Distribution Lists
We've added a new Distribution Lists module to the Portal for AbacusFLEX clients to have full visibility over their firm's email distribution lists. Within this new module, a client can simply click on the name of a distribution list to view the members and they can also download all distribution list information into an Excel spreadsheet. Another feature within this new module is a button on the screen for clients to submit a formal "Distribution List Change Request" to our helpdesk, kicking off the process for our team to start implementing requested changes. In addition to this whole new module, a firm's distribution lists are now included as selectable options within our "Add User Services Form" that a Client Approver submits to setup new employees.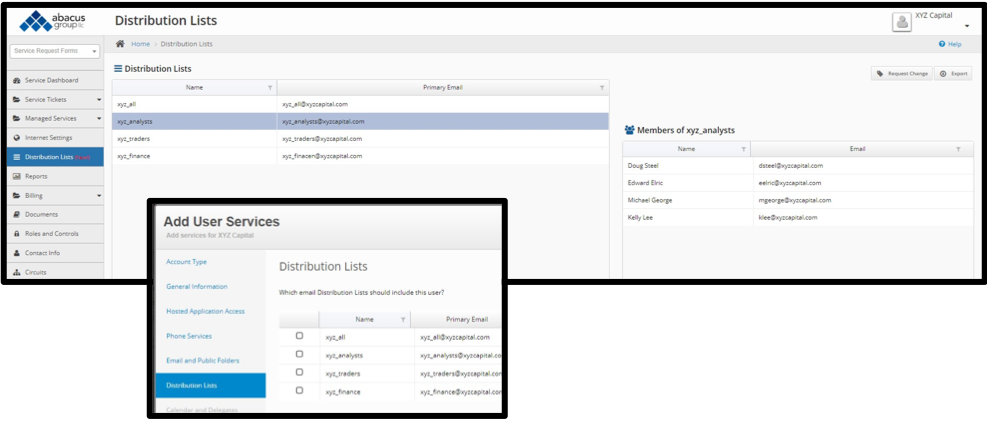 ---
Antivirus Report
As a result of implementing SentinelOne as our next-generation endpoint security solution during 2018, we were able to use SentinelOne's Application Programming Interface (API) – a software intermediary that allows two applications to talk to each other – to setup a new "antivirus activity report" within our Portal. The report provides clients with unprecedented visibility and transparency into virus and malware-based threats mitigated by SentinelOne on their network over the past 30 days, showing threats that were stopped and no longer exist. This new report is one of many that we provide to clients within the Reports section of the Portal, and includes month-end reports being automatically archived for up to one year.

---
New Features in Managed Services Reporting
We recently added a group of new features to the Portal's Managed Services module, which is how clients have visibility into their services and data storage. Clients can now toggle between "active" services and services "as-of the most recent invoice date." Using this feature, they can see a summary of month-to-date service changes and export data from any page into an Excel spreadsheet. All of these new Managed Services features make it easier for our clients to do their monthly invoice reconciliations.

2018 wasn't just a big year for all of the new Portal features we released – towards the end of the year our growing team in Charlotte moved into a new, larger office space in the Ballantyne area. If you haven't yet, be sure to check out the article the Charlotte Business Observer published recently about how we're growing our team in Charlotte!
I look forward to sharing another Portal deep-dive later this year about other new features soon to be released during the first half of 2019. In the meantime, you can learn more about the Abacus Client Portal via our video overview.