Abacus Group Presents First Annual Sajjad Bacchus - Employee of the Year Award to Cynthia Oliveras
by Abacus Group, on Mar 17, 2022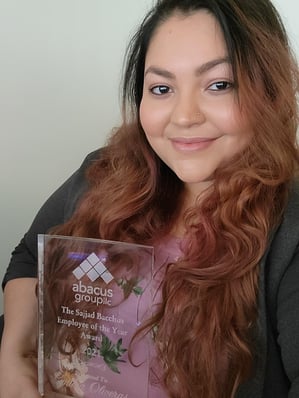 NEW YORK, March 17, 2022 - Abacus Group, a global provider of IT services for alternative investment firms, announced the creation of the first annual Sajjad Bacchus – Employee of the Year Award, presented to Cynthia Oliveras, Manager of Client Support Engineering. The award was created in honor of Sajjad Bacchus, a longtime outstanding member of the Abacus team, who tragically passed in October 2020. The award exemplifies everything Sajjad represented – from his energy and dedication to his passion and love of life. Sajjad was committed to the growth and values of Abacus, having a positive impact, and improving the experience of his team.
Born and raised in Brooklyn, New York, Sajjad was a proud first-generation college graduate. He had a close relationship with his entire family. After graduating from SUNY Albany, he started his career in IT at Goldman Sachs and was later recruited to join Abacus. He started in the New York City office, then in 2016 was asked to move to Dallas to help implement the new team there. While at the Abacus Dallas office, he moved into a new role as Client Support Engineer. In 2018, he was asked again to help implement a new team - this time in London. After a year with the Abacus UK team, he moved back to New York City to once again be close to family. On October 12, 2020, Sajjad passed away due to medical complications from a lifelong illness that he courageously battled in private throughout his life. He's greatly missed by his family, his friends and colleagues at Abacus, and everyone else he met in his lifetime.
Cynthia was chosen as the first recipient of the Sajjad Bacchus – Employee of the Year Award after a company-wide nomination process. She joined Abacus in 2014 as a Client Support Technician, and soon moved into a lead production role on the Disaster Recovery Team, then Manager of Hosted Application Support, and is now Manager of Client Support Engineering. Her technical skills and attention to detail makes Cynthia a highly valued engineer and mentor to her colleagues.
"Sajjad was such a beloved member of the Abacus family. Those of us who knew him, or simply had the opportunity to meet him and enjoy his company, were heartbroken when he passed," said Chris Grandi, CEO of Abacus Group. "To honor Sajjad and the legacy he left behind, we created this award, and I couldn't be more proud to present it to Cynthia, who exhibits the same qualities Sajjad exemplified. She is more than deserving to be the first recipient of this special award."
To learn more about Sajjad's life and impact, click here.